Newport Central Cath HS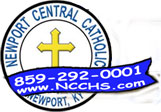 Grades 9 through 12. The innovative trimester schedule allows NCC to offer a college prep curriculum of more than 100 courses. Ten Advanced Placement Courses are offered that allow students to earn college credit. The Academic Enhancement Program meets the needs of students who may struggle in certain subjects. The trimester schedule curriculum helps on both ends of the academic spectrum.
Photo Gallery
Click on a photo below to enlarge and begin slideshow.
Large slideshows may take a minute to load.